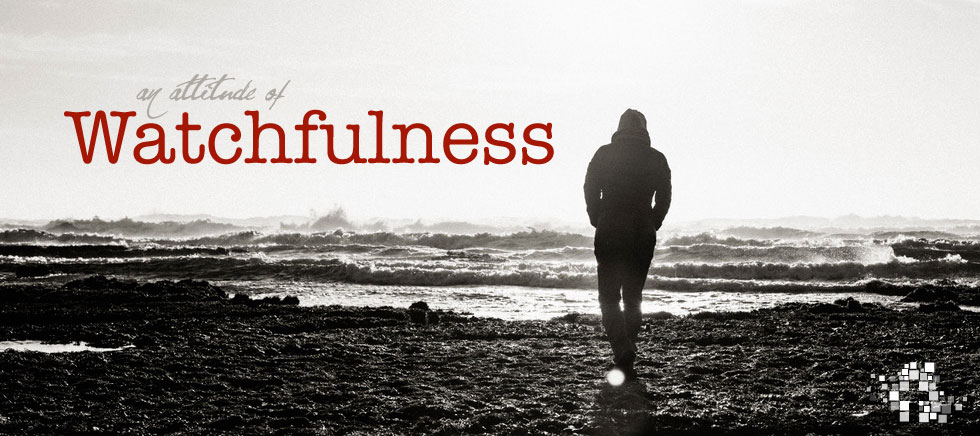 An Attitude of Watchfulness
Pastor Seth Karber - April 2, 2018
We live in a time in our world where there is a mindlessness in the church. Emotional highs have replaced mindful, intelligent worship. The truth of the Word of God becomes secondary. When you no longer know the content of truth, when you no longer know what is right or wrong, when you no longer believe the Bible all you're left with is just an emotional experience.

These kinds of things have produced a mindlessness that is in fact the complete opposite of everything that God has designed for His church to be. God NEVER intended that His people would somehow worship Him without the use of their minds and without basing their relationship with Him upon a very clear understanding of who He is.

There is no benefit in not understanding. There is no benefit in a lack of information. There is no gain in not knowing. (Psalm 32:8-9). Jeremiah says, speaking for the Lord, "For My people are foolish, they know Me not; they are stupid children and have no understanding. They are shrewd to do evil, but to do good they do not know." (Jeremiah 4:22)

We are called to be filled with the fruit of righteousness so that we may be sincere and blameless. To do that, we must approve the things that are excellent and to approve the things that are excellent, we must have real knowledge and all discernment. (Philippians 1:9-11)

We are called to put on an attitude of watchfulness

1 Peter 5:8
…be on the alert, your adversary, the devil, prowls about like a roaring lion, seeking someone to devour.

You have to have an attitude of watchfulness. Now how do you get that attitude? By learning about Satan, by learning about your weakness, by learning about spiritual truth, by learning about the armor of God, by learning principles of Scripture to apply against temptation; all of those things equip you with an attitude of watchfulness. That's why as the truth of God is poured into you, it becomes the source of your attitudes.

When it comes to our adversary, the devil, and his strategy, there is so much fantasy now in the church and so much mindlessness that the church has become very, very vulnerable to satan.

If you don't learn the truths of spiritual warfare being taught, Satan is going to devour you. Satan and his demons attack us in many ways. One of the ways is they attacks individuals.

They will attack you. They will attack you primarily through the system of the world. They can attack us through the tempting of our flesh. So they do attack us as individuals through the world around us.

In an obedient Christian's life they don't have that opening, because we consider it all joy to suffer for Him. But somehow they can come and influence us through the world system and if we're open to them and living in disobedience to God, they can definitely influence our behavior.

Another thing that they do is they attack families.

They attack families. When you get married, you become one flesh. You are your wife's and your wife is yours'. And you need to give your body to your spouse. Why is that so important to give yourself to your spouse? So that Satan will not tempt you in your lack of self-control. (1 Corinthians 7:3-5)

Nothing would make Satan happier than to come against a Christian couple and because one is holding back the physical relationship against the other, Satan would love to raise the level of temptation to that one struggling with self-control and destroy that family.

And if there's an opening in your life and there's disobedience, there is no reason to think that he can't somehow push the buttons even within us.

A third thing they do is attack leaders.

Leaders in the church. That is why the apostle Paul says "You have to have men that are qualified for ministry, because if not, they can fall into the snare of the devil." (1 Timothy 3:1-7)

The devil is very good at setting traps for leaders in the church. He wants them to fail and fall into his wicked temptations to drag them away.

And then fourthly, they attack the church.

Satan's goal is to destroy our unity, our power, to confuse our purpose. You can read the churches of Revelation 2 and 3 and see how Satan moved in, how the synagogue of Satan invaded and destroyed and devastated a church's testimony.

The devil disguises himself as a Christian. He disguises his deceitful workers as those who teach truth. (2 Corinthians 11:13-14)

Now, how do we deal with the attacks of the enemy? How do we stand with watchfulness?

Do we have to go to a Bible school? Do we have to attend Bible boot camp? Do we have to go find out how to battle demons? What do we do? Let's go back to 1 Peter and find out.

1 Peter 5:9
But resist him, firm in your faith,…

How do you deal with the devil? STAND FIRM IN YOUR FAITH!

He is a deceiver, he is a liar and you deal with him with truth and obedience to that truth.

Isn't that so simple? So simple. You've got this enemy prowling around wanting to chew you up and devour you. How you going to deal with him? Stand against him. How do you stand against him? Firm in the faith, the revealed Word of God, which has told you all about God, so that you can be firm in your faith in God. That's how you do it.

Everything becomes captive to the truth and obedience to the truth. As I know the truth, as I obey the truth, Satan is resisted. And whatever thing comes against me becomes captive as I stand on the truth, and I obey the truth. (2 Corinthians 10:3-5)

There's only one way to resist the devil and that is to know the truth, to believe the truth, to stand on the truth, to obey the truth. And when you do that, you stand against him and he what? He flees! (James 4:7)

That's how you resist. No magic, no formulas, just the Word, holy life, confident trusting hope in God and you stand your ground.

Peter adds this so beautifully.

1 Peter 5:9
…knowing that the same experiences of suffering are being accomplished by your brethren who are in the world.

He's saying… "Hey, in the middle of this you're not alone. The whole brotherhood, the whole Church is going through this. Suffering is a way of life as God is accomplishing His holy perfecting work in you. Just look at the goal, he says, and realize everybody's in it."

However satan comes at you, the answer remains the same… spiritual weapons, stand in the truth, trust God. If I know the truth and obey the truth and commit my life to God, I stand strong.