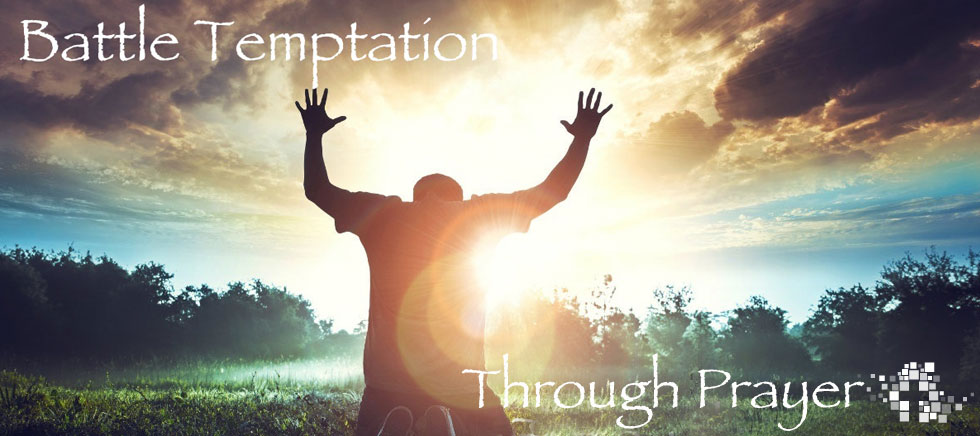 Battle Temptation Through Prayer
Pastor Rod Block - March 30, 2018
Isaiah 53:3 Isaiah prophesied that our Lord would be a man of sorrows and acquainted with grief. Sorrow and grief followed Him all through His life.

Hebrews 5:7-9 "In the days of His flesh, He offered up both prayers and supplications with loud crying and tears to the One able to save Him from death, and He was heard because of His piety. Although He was a Son, He learned obedience from the things which He suffered. And having been made perfect, He became to all those who obey Him the source of eternal salvation"

Jesus was the man of sorrows. Sin, unbelief, rejection, ignorance, suffering, death, all gave our Lord Jesus grief upon grief and sorrow upon sorrow, all through His life and ministry.

But the apex of His sorrow came in the Garden when He was a few hours from drinking the cup of God's wrath. His sorrow became so severe that it came close to killing Him. His sorrow is beyond our comprehension. It defies description. It surpasses understanding.

As we enter the Garden with Jesus, we enter hallowed ground. We go where the Apostles did not go. Eight of them were left at the entrance to the Garden, three of them went a little further, but only Jesus went all the way in and agonized alone.

We are taken in to that inner place where Christ struggled by Himself. It is the unparalleled private struggle with the power of darkness.

We see Christ in His agony, At the same time we learn how to face our own temptations.

Luke 22:39-40 And He came out and proceeded as was His custom to the Mount of Olives; and the disciples also followed Him. When He arrived at the place, He said to them, "Pray that you may not enter into temptation."

Pray that you may not literally be overwhelmed by temptation, or that temptation would be successful. Pray.

Jesus knew he was temptable. He was in all points tempted like as we are, yet without sin. He did not sin, but He was tempted,

As believers, we struggle with temptation because of our sinful flesh, our unholy flesh. We struggle with three things, the lust of the flesh, the lust of the eyes, the pride of life.

He said to them, "Pray that You may not enter into temptation." He was going to go and do the very same thing, they needed to do it as well.

The lesson is clear. Christ goes to His temptation, they go to their temptation. Everyone needs to pray.

Verse 41-43, And He withdrew from them about a stone's throw, and He knelt down and began to pray, saying, "Father, if You are willing, remove this cup from Me; yet not My will, but Yours be done." Now an angel from heaven appeared to Him, strengthening Him.

The lesson here is that if you're going to triumph over temptation, you must hate it, you must feel afflicted by it, you must feel the pain of it, the assault of it, the repulsiveness of it.

We need to be afflicted by the thought of sin, If you want to be triumphant in your facing of temptation.

The believer must feel the agony of sin because he hates it. The agony of sin because he loves holiness and he loves Christ.

God will strengthen you when you pray.

Verse 44, And being in agony He was praying very fervently; and His sweat became like drops of blood, falling down upon the ground. Agony means to be in combat unto death.

He can't pray any harder. He can't pray any stronger. He's praying to the limits of His own capability and His sweat became like drops of blood falling down upon the ground.

He does this and then He goes back and finds them asleep.

Verse 45 When He rose from prayer, He came to the disciples and found them sleeping from sorrow

The temptation is over. The power of Satan had given its best shot. Satan tried to keep Him from the cross. When He got up off the ground, He was bloody but unbowed. And He came to the disciples blood soaked and found them sleeping from sorrow.

They should have been praying. If He needed to pray, how much more did they need to pray? Repeatedly He warned them to pray.

Verse 46, "He said to them, Why are you sleeping?" Very sad. "Rise and pray that you may not enter into temptation." He said it to them repeatedly but every time He came back, found them asleep again.

Our Lord goes to face the enemy triumph over temptation through prayer. They go to face the enemy defeated by lack of prayer.

Our Lord has won the victory, defeated the prince of hell. Stands covered with bloody sweat on His blessed face and soaked through His clothes but He is bloody and unbowed. He is ready to face the enemy. He will face the betrayer. He will take His kiss. He will face the Jewish leaders. He will face the Romans. He will go to the cross and He will crush the head of the serpent and He will be made sin for us that we might become the righteousness of God in Him and He will triumph over death and He will burst out of the grave to be exalted to the right hand of the Father as King of Kings and Lord of Lords forever.

The last temptation is done. The cup is in His hand. He's about to drink it. There is great power in prayer. Pray more. Fall less.