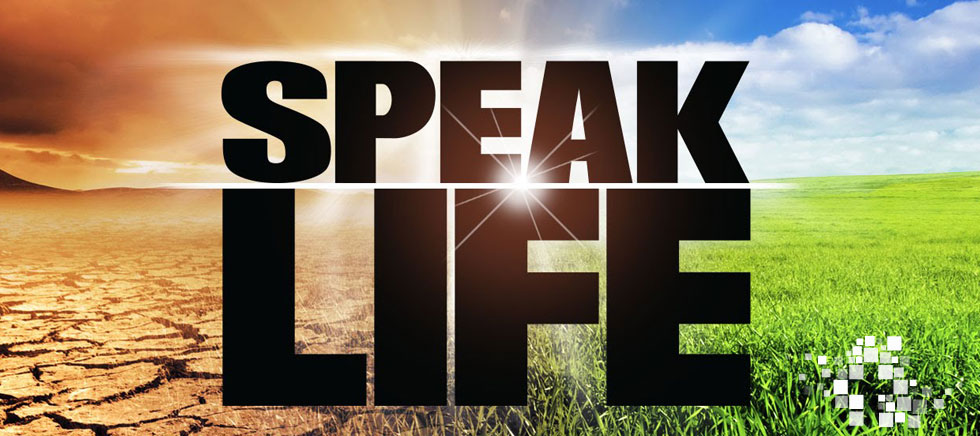 Speak Life Into Your Marriage
Pastor Rod Block - March 23, 2018
Words . . . They've been used to make us laugh and cry. They can wound or heal. They offer us hope or devastation. With words we can make our best intentions felt and our deepest desires known.

A poor selection of words can devastate your relationship.

Most make unconscious choices in the words that they use. Realize now the power that your words command if you simply choose them wisely.

If we want to change your lives and your relationship you need to consciously select the words we're going to use.

There is a marriage miracle in your mouth. If you want to change your marriage, start by changing your mouth. If you'll learn how to speak the right words and keep the right attitude, God will turn that situation around.

You cannot speak negatively about someone on one hand, then turn around and expect that person to be blessed. If you want your spouse and your marriage to be productive and successful, you need to begin declaring words of life over your spouse rather than predictions of doom and despair. The Scripture reminds us that with our words we can bless people or we can curse them.

Whether we realize it or not, our words affect the future of our marriage for either good or evil. We need to speak loving words of approval and acceptance, words that encourage, inspire, and motivate our children to reach for new heights. When we do that, we are speaking blessings into their lives. We are speaking abundance and increase. We're declaring God's favor in their lives.

Communication is the lifeblood of a marriage relationship. In fact, a marriage will never rise above the level of communication that transpires within it. One of the greatest gifts love can offer is genuine communication.

Men and women are very different, and those differences become natural barriers to communication. But because husbands and wives are so different, the possibility of misunderstanding is always greater than the possibility of understanding.

Everything you say to your spouse has more than one message-and that's where the problem begins. Each communication includes: What you mean What you are actually saying What the spouse actually hears What your spouse thinks he or she hears What your spouse says about what you said What you think your spouse said about what you said.

Without communication, a marriage will surely die. On the flip side, improving communication is the easiest and quickest way to make any marriage better.

Ephesians 4:29: "Do not let any unwholesome talk come out of your mouth…."

Have you ever been around a couple that always put each other down?

We have such power with our words. They have such octane behind them. We don't realize the damage they can do.

Proverbs 18:21-22 says, "Death and life are in the power of the tongue; and you will eat the fruit thereof." In other words, you create an environment for either good or evil with your words, and you are going to have to live in that world you've created.

There is another option.

Ephesians 4:29 says, "Do not let unwholesome talk come out of your mouth, but only what is helpful for building others up according to their needs that it may benefit those who listen."

Words are similar to seeds. By speaking them aloud, they are planted, and they take on a life of their own; they take root, grow, and produce fruit of the same kind. If we speak positive words, our lives will move in that direction. Similarly, negative words will produce poor results. We can't speak words of defeat and failure yet expect to live in victory. We will reap exactly what we sow.

Sadly, most people insist on saying negative things over their marriages. They continually denigrate their marriages with their own words. They don't realize that their own words will decimate their confidence and destroy their marriage.

Don't use your words to describe your situation; use your words to change your situation.

Use your words to speak blessings over your marriage. Quit criticizing and start declaring great things in store for her/his future.

If you want to see God do wonders in your marriage, start blessing your spouse. Start appreciating and encouraging them.

When you believe the best in people, you help to bring the best out of them.

Here's the key: Don't focus on what they are right now. Focus on what they can become. See the potential on the inside. When you talk about the good, you will draw out the good.

Your words have enormous power. Tap into that power. This is a spiritual principle, and it works.