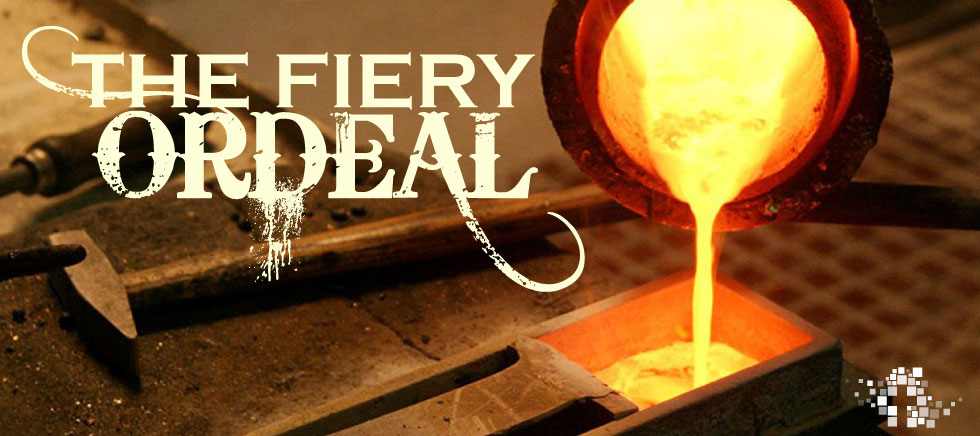 The Fiery Ordeal
Pastor Seth Karber - March 1, 2018
How are we to respond to suffering? How do we handle persecution and the life-threatening danger that comes with believing in Christ? Well, Peter gives us the answer to these questions in 1 Peter chapter 1 verse 12.

1 Peter 4:12 Beloved, do not be surprised at the fiery ordeal among you, which comes upon you for your testing, as though some strange thing were happening to you;

The point here is to EXPECT suffering, expect it, don't be surprised at it, don't think it's some strange thing, EXPECT it. Peter has consistently through this letter said that persecution of all kinds for Christians is inevitable. In fact, the surprise would be if it didn't come.

Let us remember the words of John, "Do not be surprised, brethren, if the world hates you." (1 John 3:13) Jesus teslls us that "If the world hates you, you know that it has hated Me before it hated you." (John 15:18) Paul writes to Timothy and reminds him that "Indeed, all who desire to live godly in Christ Jesus will be persecuted." (2 Timothy 3:12)

And so, Peter is really echoing the instruction of these others who have written in the New Testament, that we're not to be surprised when suffering comes.

When you are living godly in an ungodly world you become unwelcome in the culture and even offensive. The goodness alone of a Christian can be offensive to a wicked world. And when you start preaching against sin and loudly proclaiming that obedience to the Word of God is the only way, we become particularly offensive. It's as if Peter is saying suffering is the price of discipleship. There is definitely a price to pay if you proclaim the name of Christ and live according to His commands. You will be hated, you will be ridiculed. (Luke 14:26-33)

Paul is just as concerned as Peter that we would see suffering in a right perspective. "For I consider that the sufferings of this present time are not worthy to be compared with the glory that is to be revealed to us." (Romans 8:18)

Don't be surprised that you're being persecuted. Don't be shocked that life is difficult. Don't be surprised when somebody takes issue with your testimony. Don't be surprised when you can't get the promotion you want at work, when your coworkers are hostile toward you, when you're mocked, when you don't get what you deserve. Don't be surprised when your neighbors seem to have a problem with you for a reason that you can't understand. Don't be surprised. Don't be amazed. Christians should easily understand that suffering goes hand-in-hand with our faith. It isn't foreign, it isn't alien. IT BELONGS. Christianity never promises the absence of suffering. In fact, Christianity promises the presence suffering.

So, don't be surprised at the fiery ordeal among you. Now, what does that mean? Well, literally the term "fiery ordeal" is used for a burning furnace. In the Old Testament it was used of a smelting furnace where metal was melted down to be purged of imperfection. So, he is saying: don't be surprised when God puts you in the furnace to melt you down.

And so, he says, "Look, you're willing to endure some fiery trials here because you know it will prove the genuineness of your faith which will be rewarded at the appearing of Jesus Christ." (1 Peter 4:13)

Suffering for the sake of Christ reveals who's genuine. The fakers aren't going to hang around. So, it comes for your testing. It's an essential feature of God's working in you to prove you, to purify you, to refine you.

So, he says expect it, and don't treat it as though some strange thing were happening to you. Persecution, affliction, suffering do not happen by chance, nor do they interfere with God's plan. They are part of God's design. It's the way He proves the genuineness of your faith and it's the way He refines your life. It takes out all the pride and all of the self, It strips you and makes you totally dependent on Him, and that's a good process!