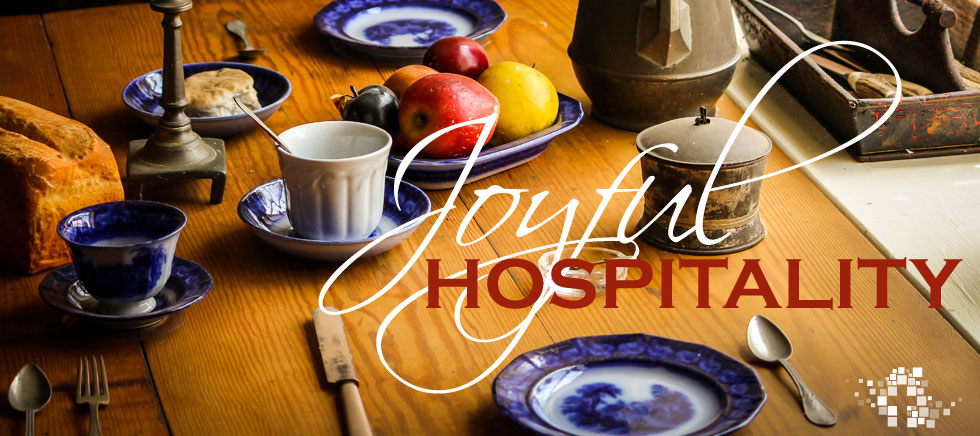 Joyful Hospitality
Pastor Caleb Delzell - February 20, 2018
Running through this study in 1 Peter 4, I was struck by how seemingly out of place this verse was. It comes right in the midst of a section where Peter is speaking to the imminence of Christ's return, and how our live ought to be impacted by that reality. Verse 7 begins with, "The end of all things is near..." and is followed by Peter giving such instruction as "be of sound judgement and sober spirit for the purpose of prayer" and "keep fervent in your love for one another." We also see the apostle reminding believers to utilize their gifts for the benefit of the whole body and to make everything they do, whether speaking or serving, go to the sole purpose of glorifying God.

That's some heavy stuff, for sure, some high and holy commands the Spirit gives us through Peter's letter here. Big things, things pertaining to the end of time and the ultimate purpose of bringing high honor and glory to the name of our God! It's an awesome section, without doubt. But right in the middle of this section we see this command alongside the others... 9Be hospitable to one another without complaint.

Alongside the great commands to pray and love and serve we see Peter, under the authority and inspiration of the Holy Spirit, command us to also be hospitable. This took me by surprise at first, thinking a reminder to be hospitable was a bit out of place in a section devoted to the great priorities of end-times living. But the more I thought about it and reasoned through it, the more I began to recognize the importance of what we are being told here. So let me share one primary thought with you.

God has always desired for his people to be unreasonably hospitable.
When asked about which commandment was the greatest, we know that Christ Himself gave a two part answer in Mark 12, quoting from the Old Testament Law both times. "Love the Lord your God" (Deuteronomy 6:4-5) and "love your neighbor as yourself" (Leviticus 19:18). God's desire for His people to love and care for each other was evidenced throughout many aspects of the Law. In fact the apostle Paul even said in his writings to the Galatian church (Galatians 5:14) that the whole Law is summed up and fulfilled in that one phrase, "You shall love your neighbor as yourself."

But God's heart for basic kindness and compassion wasn't limited by the lawyer's (and often our) superficiality when he asked the Lord the question, "And who is my neighbor?" We would like to think that the "not my neighbor" argument is valid, but the reality is that far before Christ answered this question during His ministry on earth, the Lord had answered it in His law. We see that basic kindness and a caring attitude wasn't simply to be reserved for those to whom we wanted to show it, it wasn't a commodity that you could give or hold back at will. It was a pattern, a lifestyle, a command.

This is shown in sections of the Old Testament where we see God command His people to show the same concern for their enemies as they would their neighbors. If you found your enemy's livestock wandering the wayside, you had to take it back to him (Exodus 23:4). If your enemy came upon hard times and was downtrodden and stumbling, you were not to rejoice and gloat over him (Proverbs 24:17). In fact, if it came to your knowledge that someone you considered an enemy was suffering from hunger and thirst, then you yourself were to go and care for that person (Proverbs 25:21).

The point is that God has always valued and prioritized hospitality, towards both those we call friends and those we call enemies. But why is this cheerful hospitality included in Peter's end-times list? Because a hospitable heart is a holy heart, an obedient heart, a submissive heart. What better way to prove the authenticity of our faith than with the work of hospitality (James 2:14-17)? Especially when it so often goes against the combativeness and pride of our flesh. To sacrificially love someone, neighbor or stranger, friend or enemy, is demonstrative of a life that is living for something greater than simply the here and now. To show hospitality on Earth is to prove a heart set on Heaven.