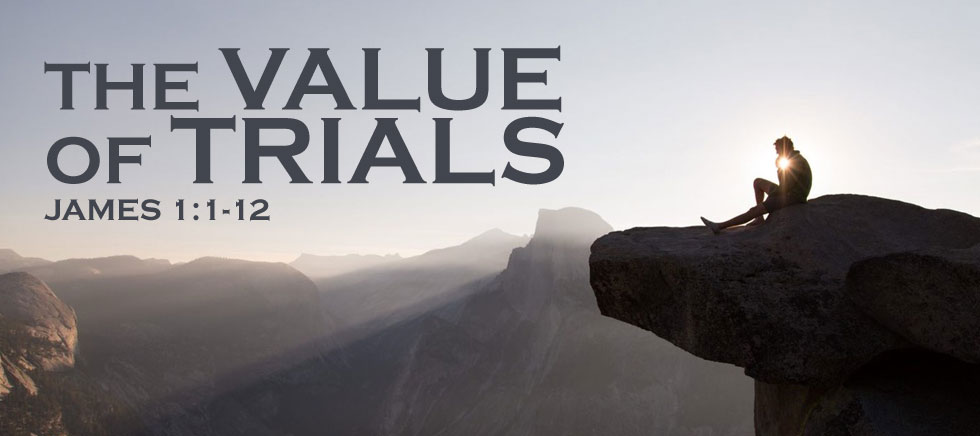 The Value Of Trials
Pastor Seth Karber - February 9, 2018
Any trial can be joyous for a Christian if his perspective is right. Jesus told His disciples to expect trials in this life (John 15:18-16:6). The thing that sustains us in the midst of trials is our faith in God, believing that He is working all things for our good and His purpose (Romans 8:28) and that we will have victory over them through God's presence (Psalm 23:4).

The book of James was written to help believers endure their trials. In James 1:2-12 James discusses the reason for trials, the response to trials, and the result of trials.

The Reason for Trials
James 1:2 Consider it all joy, my brethren, when you encounter various trials.

The word "various" in the Greek is the word poikilos (poy-kee'-los;) meaning "many colored" or "variegated." It emphasizes not the number but the diversity of troubles that can come our way.

The Greek word for "trials" is peirasmos (pi-ras-mos'). It means something that breaks the pattern of peace or happiness. The verb form means "to put someone to the test," regardless of whether the results of the testing are positive or negative.

When a fake Christian goes through a test, it reveals his true colors. When a true believer goes through a test, he will be driven to prayer, leaning on the strength of God rather than his own weakness. Trials burn up fake faith but strengthen true faith. They may cause us pain when we recognize our weaknesses, but they have the good result of causing us to turn from ourselves to the immeasurable strength of God.

Responding to Trials
Believers respond properly to trials when they persevere in them. James lays out five requirements for enduring trials in James 1:2-11. A Christian is to have a joyous attitude (verse 2), an understanding mind (verse 3), a submissive will (verse 4), a believing heart (verse 5-8) and a humble spirit (verse 9-11).

As we respond to trials according to God's Word, we achieve the end goal that James describes in verse 12...

The Result of Trials
James ends his this section on trials in verse 12 by saying, "Blessed is a man who perseveres under trial; for once he has been approved, he will receive the crown of life, which the Lord has promised to those who love Him."

As believers we may experience times of struggle and doubt, but our faith will never be destroyed. We hold fast to the Lord in the midst of our trials because we love Him. That kind of loving perseverance results in true blessing.

When we don't collapse under trials our reward is eternal life. James says, "Once he has been approved, he will receive the crown of life" (v. 12). The "crown of life" in the Greek text, could literally be translated, "a crown which is life." The crown is eternal life, which God has promised to those who love Him. That is our ultimate reward! Although we already experience some of the benefits of eternal life on earth, someday we're going to receive it in its fullness. We are still waiting to enter into our future reward. At the Lord's coming, He will grant to us the fullness of eternal life!

Life is full of trials. How we deal with those trials reveals the genuineness of our faith or the lack of it. If we endure, persevere, and are victorious, we demonstrate that we possess true saving faith. Eternal life, eternal righteousness and eternal glory will be our reward!